Join us today in celebrating the release of the TDengine PI Connector! The connector is a simple but powerful solution that allows PI customers to build a hybrid system leveraging their existing investment in PI while preparing a path forward to expand data historians and make use of modern analytics products.
The TDengine PI Connector gives you the flexibility you need to grow your business and doesn't lock you into complicated contracts or expensive licenses. Your new data is stored in TDengine while your existing data remains in your PI data historian – and you can still use PI Vision and PI AF to visualize and analyze all your data, no matter which system it's stored in.
Digital Transformation Easier Than Ever
Getting started with TDengine is easier than any other time series database (TSDB) – you can register for a free TDengine Cloud account at cloud.tdengine.com (no credit card required) and see for yourself before making a decision. TDengine Cloud is a fully managed, enterprise-ready cloud solution that saves you time by taking care of database management tasks like clustering, backup, and data retention on its own.
Replicate your data to the cloud in just a few clicks: Once your TDengine instances are set up, just choose the PI points or AF templates that you want to replicate to the cloud. With the PI Connector, data replication is simple and error-free – you can search for points using wildcards, by description, and by type, making it as easy as possible to build your list of data to replicate. And after you've set up data replication, the TDengine PI Connector takes care of ETL for you, including automatic backfill after disruptions.
Unlock your data with an open system: Now that your data is in the cloud, you have access to all kinds of modern tools for analytics and visualization. For example, the official TDengine plug-in for Grafana enables new levels of observability and visualization for your data with a range of premade and customizable dashboards. TDengine also provides connectors for a variety of programming languages that make integration with your favorite tools fast and convenient.
Scale your system with a powerful hybrid solution: At the same time, with the included TDengine Data Reference, you can continue using PI Vision to view and manipulate all of your data stored in either PI or TDengine. The TDengine PI Connector causes no disruption to your existing workflows and helps you make the best use of your PI System without having to purchase new points.
Eliminate licensing with pay-as-you-go pricing: Our usage-based billing model ensures that you pay only for resources you consume and frees you from time-consuming and expensive software licenses while having no upfront costs and no limitations on data points or analytics.
The TDengine Team understands that minimizing downtime, retraining, and expenditures is essential to modernizing data historians in manufacturing, utilities, and other industries. Only the TDengine PI Connector allows you to keep your current systems in place while you take the next steps toward digital transformation, adding value to your data historian without affecting your existing operations.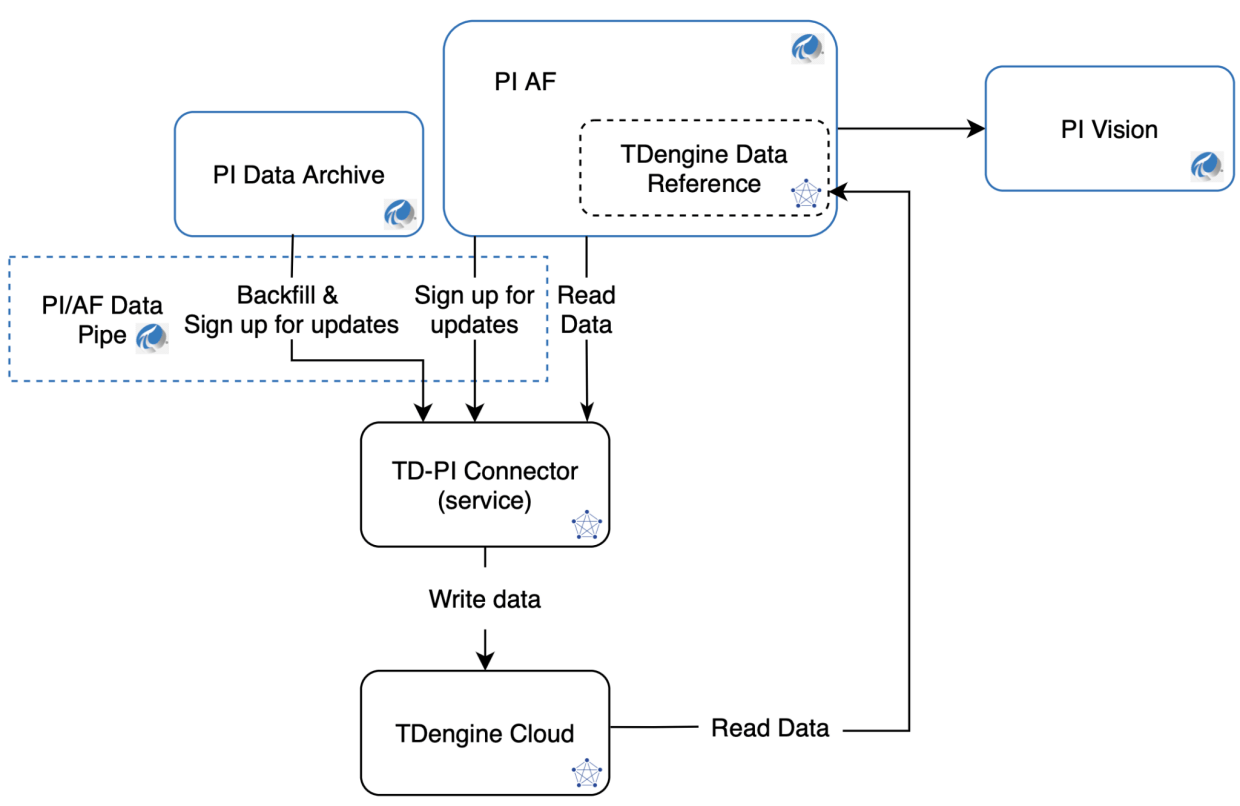 Learn More
The TDengine PI Connector can integrate your PI Systems with our fully managed TDengine Cloud or with an on-premises deployment of TDengine Enterprise Edition. Contact us today and we'll be happy to architect a solution for you that makes the most of your data historian.
The TDengine Team will also be attending AVEVA World in San Francisco from November 14 to 17, and we'd love to see you there at Booth 18. Founder and Core Developer Jeff Tao as well as Head of Product Sean Ely will be at the conference ready to answer any questions you may have about how the PI Connector works and how it can benefit you as a PI customer.
Video Tutorial